AGM 2021 reelects the entire board
On 23 February 2021 our first ever virtual AGM was held with some 33 attendees. Our 2020 AGM took place shortly before the pandemic hit, on 11 February, with a record attendance. So this was somewhat different, one could say, but still a nice event. And most importantly: The entire board opted for reelection.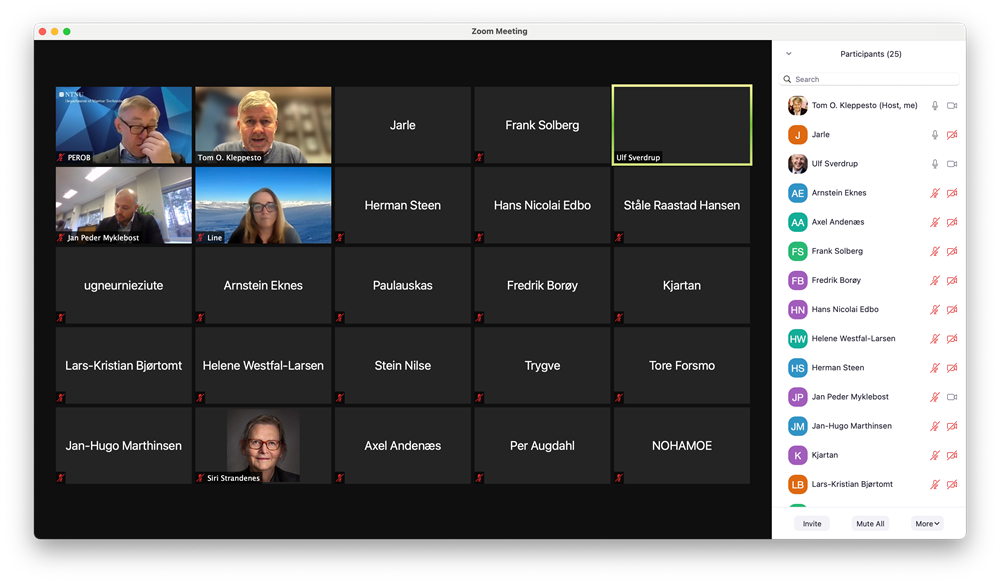 The Annual General Meeting was held on Tuesday 23 February, 2021, at Zoom (due to Covid-19). Present were altogether 33 attendees: 20 delegates representing 16 members, in addition to our auditor, guests, and the General Manager. In addition two power of attorneys had been given by absent board members. Tom O. Kleppestø, the General Manager, was elected to sign the protocol
1       THE BOARD'S ANNUAL REPORT FOR 2020
The Board's Annual Report 2020 was presented for and approved by the AGM.
2       PROFIT & LOSS ACCOUNT 2020 & AUDITOR'S REPORT
The chairman presented the P&L for 2020 [2019]. The total turnover was NOK 912,700 [1,825,032] and net loss was NOK -26,693 [+21,066]. These figures were due to the pandemic. The auditor's report was submitted by the auditor, Mr Ståle R. Hansen from FGH Revisjon AS.
The AGM approved the 2020 Profit & Loss Account.
3       BUDGET 2021
The chairman presented the budget for 2021 with a turnover of NOK 1,100,000 and a net profit of NOK 20,000. He expressed the Board's uncertainty due to the covid-19 situation.
The AGM acknowledged the 2021 budget.
4       MEMBERSHIP FEE FOR 2021
The budget was based on the assumption that the membership fee would remain at NOK 20,000.
The AGM set the membership fee to NOK 20,000 for 2021.
5       ELECTION OF THE BOARD, CHAIRMAN, AUDITOR AND ELECTION COMMITTEE
The chairman presented the Election Committee's proposal for board members in 2021. All board members had opted for re-election. The proposals were unanimously approved.
The board for 2021 therefore consists of:
Per Olaf Brett

Ulstein International AS, re-elected, Chairman
Kjartan Bru

BNP Paribas SA
Marthe Lamp Sandvik

DNB Bank ASA
Arnstein Eknes

DNV GL AS
Audun Baardsen

G2 Ocean AS
Jan Peder Myklebost

Hydro Aluminium AS
Helene Westfal-Larsen

Westfal-Larsen Shipping AS
As auditor was re-elected Mr Ståle Raastad Hansen, FGH Revisjon AS.
The Chairman of the Board presented the Board's proposal for Election Committee:
Rune Birkeland

Grieg Star AS
Frank Solberg

Sibelco Shipping AS
Jostein Bjørgo

Wilson EuroCarriers AS
Elisabeth Holmsen

Norsk Hydro ASA
After the agenda items above, the General Manager presented plans for upcoming activities including the DNV meeting in June. Due to the pandemic there will be no Annual Summit this year. The Annual General Meeting 2021 finished at 14.25.
After the AGM followed the seminar on "Key trends in global politics post Trump" with keynote speaker Ulf Sverdrup, Director of NUPI. The seminar finished at 15.15 and then the meeting ended too.